Dietitians
Dietitians can often spend a great deal of time developing and updating their own resources for use in a variety of clinics within a range of clinical specialities. This is due to the challenges associated with providing information to clients that is tailored to meet their individual requirements whilst retaining the common key principles of healthy eating.
To overcome these issues, ERNST Nutrition has developed a unique resource that provides the building blocks on which dietitians can easily develop individualised care plans for a range of clients with different nutritional problems.
The Nutribow™ Dietary Analysis System
This innovative, easy-to-use resource offers an engaging alternative to the traditional healthy eating resources that are currently available. The Nutribow™ system breaks down components of the diet into unique nutritional groups and portion sizes that can easily be followed by clients with a range of educational backgrounds. Dietitians can then adapt the proportions and quantities of these nutritional groups to meet the needs of individuals following a thorough assessment of biochemical, clinical, cultural, social and psychological factors.
The Nutribow™ resource offers both clinicians and clients a simple method of measuring progress with nutritional goals that can be used to determine outcomes of dietary treatments. Dietitians are provided with the means to demonstrate a 'before' and 'after' dietary profile without the need for complex nutritional analysis software or reliance on anthropometric measures to determine client outcomes. This means that response to dietetic treatment can be easily assessed which can improve the efficiency and structure of dietetic consultations.
ERNST Nutrition's resources have been tried and tested in our private clinics and continue to be used to support clients to make positive dietary changes. The tally chart below demonstrates how the Nutribow™ Dietary Analysis System can provide clients with a visual representation of the changes they have made to their diet which can be an important motivator.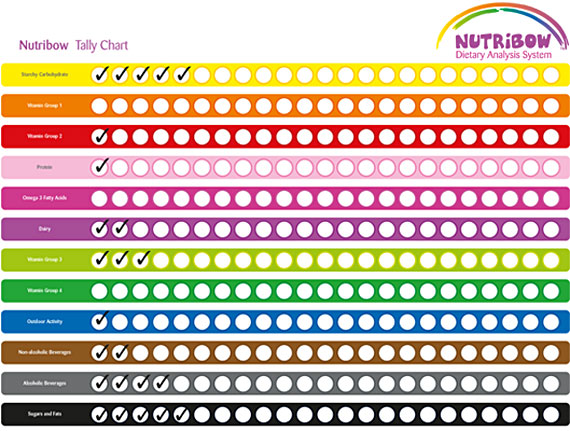 The Nutribow™ resource can either be used in isolation or in combination with the Elementary Routine Nutritional Screening Tool (ERNST).
If you are a registered Dietitian and would like to find out more about this unique resource you can order an introductory pack. Contact us to place an order or for more information.