Medical / Nursing
Medical and nursing teams make up the majority of front line healthcare services and are the first point of contact for many clients with nutritional problems. Due to the pressures in many services, the practice of screening for and identifying such problems can be challenging without appropriate resources that are simple to use.
ERNST Nutrition has developed a unique nutritional screening programme that can be used by all front line healthcare professionals to guide decision making at the moment of presentation.
Screening for Undernutrition
Undernutrition has been reported to cost the NHS as much as £19.6 billion every year through increased morbidity, mortality and impact on front line services (Elia, 2015). For the last 10 years, national guidelines have promoted the implementation of nutritional screening programmes for undernutrition in order to reduce the human and healthcare costs associated with the condition (NICE, 2006).
There are over 50 different nutritional screening tools aimed at detecting undernutrition or those at risk. Of these, only 11 have been evaluated for reliability and validity (Skipper et al, 2012). Effective screening for undernutrition means that patients at risk can receive assessment and treatment much earlier than those who are subject to routine care. Despite the positive impact that early detection of undernutrition could have, practices within the UK are variable and many Trusts are yet to introduce nutritional screening programmes.
According to NICE, the annual cost to the NHS for implementing nutritional screening programmes is estimated to be £12,264,000 with an additional non-recurrent cost of £2,000,000 for training the healthcare staff using them. This includes 3 different settings; inpatients, outpatients and GP practice.
However, when considered against the savings that could be made by reducing length of stay, additional outpatient/GP attendances and recurrent hospital admissions (estimated at around £45,464,000 per annum), the introduction of a nutritional screening programme can improve patient care as well as increasing cost-effectiveness within the NHS.
Screening for Overnutrition
Unlike that for undernutrition, specifically designed nutritional screening programmes for overnutrition are not readily available. The UK guidelines for obesity suggest that healthcare professionals should use clinical judgement to decide when to screen whereas in the US, the Preventative Services Task Force recommends that all adults should be screened for obesity. Both agree on the use of body mass index (BMI; =30kg/m2) with consideration of waist circumference. Studies investigating the 'obesity paradox' also emphasise the importance of recording weight changes to determine level of risk (Myers et al, 2011).
According to NICE, in 2007 the direct cost to the NHS of overweight and obesity was £1.9 billion and £2.3 billion respectively. These costs have been predicted to rise to £2.6 billion and £7.1 billion by 2050. Men who are obese are 5.2 times more likely to develop diabetes and this risk increases further amongst women, who are 12.7 times more likely to develop the condition. Costs of diabetes to the NHS have been estimated at £10 billion each year due to the clinical complications associated with poorly controlled blood glucose levels (Diabetes UK, 2014).
It has been proposed that weight loss of 10kg in those newly diagnosed may result in a 50% fall in blood glucose levels (Swanton, 2008). Therefore, earlier detection and treatment of overweight and obesity can result in better care for patients and savings for the NHS through reductions in comorbid complications.
Combining Pathways of Care
The term malnutrition can be used to describe the deficiency, excess or imbalance of nutrients that is associated with poor nutritional status. Whilst low body weight is traditionally used as a marker to identify those who are poorly nourished or at risk of poor nutrition, the nutritional imbalances that specifically predispose individuals to malnutrition can occur at any body weight, including those falling within the overweight and obese categories.
The following pathway was proposed by NICE in 2006 to outline the approach to managing undernutrition and covers the identification, treatment and monitoring of the condition.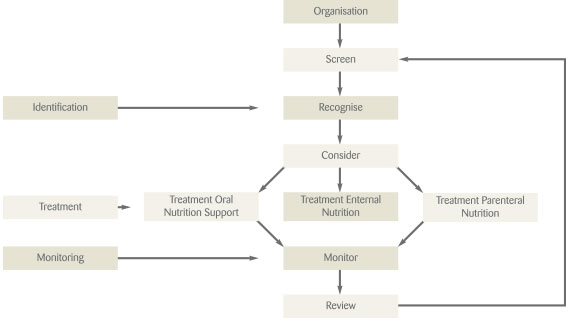 As already mentioned, malnutrition refers to both under and overnutrition. Whilst there may be specific differences in the treatment of these presentations, the identification and monitoring stages apply to both pathways. This presents a huge opportunity to harmonise the pathways for both presentations of malnutrition, which may simplify specific stages of the process, identify suitable treatments more efficiently and reduce human and healthcare costs.
In view of this, we propose the following pathway for identification, treatment and monitoring of malnutrition that provides a more holistic approach to its management: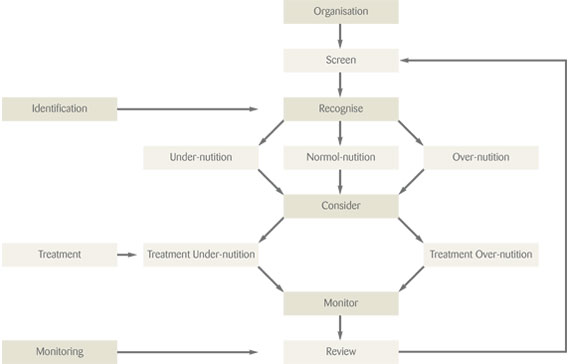 The pathway above indicates that the identification of malnutrition (screening and recognition) can be combined for both under and overnutrition before individual treatments are selected. This enables organisations to screen for the deficiency, excess or imbalance of nutrients that is linked to poor nutritional status. Longer term monitoring and review can also be undertaken as part of a single malnutrition pathway, permitting the focus to move towards improving treatment approaches.
ERNST Nutrition's unique nutritional screening programme is based on the pathway above and enables healthcare professionals to easily incorporate nutritional screening into their clinics and provide clients with first line information at the point of contact.
Find out how this unique nutritional screening programme could benefit your organisation on our Nutritional Screening (ERNST) page.
References
Elia, M. The cost of malnutrition in England and potential cost savings from nutritional interventions. A report on the cost of disease-related malnutrition in England and a budget impact analysis of implementing the NICE clinical guidelines/quality standard on nutritional support in adults. 2015.
National Institute for Health and Care Excellence (NICE). CG 32: Nutrition support for adults: oral nutrition support, enteral tube feeding and parenteral nutrition. 2006.
National Institute of Health and Care Excellence (NICE). Costing report: Implementing the NICE guidance in England. 2006.
Skipper A, Ferguson M, Thompson K, Castellanos VH, Porcari J. Nutrition screening tools: an analysis of evidence. Journal of Parenteral and Enteral Nutrition, 2012, 36(3): 292-298.
Moyer VA. Screening for the management of obesity in adults: U.S. preventative services task force recommendation statement. Ann Intern Med, 2012, 157(5): 373-378.
National Institute for Health and Care Excellence (NICE). CG 189: Obesity: identification, assessment and management. 2014.
Myers J, Lata K, Chowdhury S, McAuley P, Jain N, Froelicher V. The obesity paradox and weight loss. The American Journal of Medicine, 2011, 124(10): 924-930.
Diabetes UK. The Cost of Diabetes Report. 2014.
Swanton K. Healthy weight, healthy lives: A toolkit for developing local strategies. 2008.
National heart forum in association with the faculty of public health, the department of health, the department for children, schools and families and foresight, government office for science.